About Us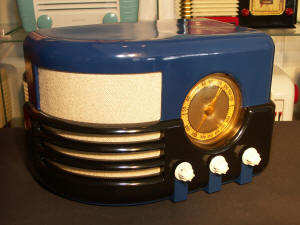 DecoRadioSales is a division of Primeaumusic.com.
All radios featured on this site are original 30's, 40's and 50's Bakelite tube radios made famous by Scott Primeau of Primeau Music. Each radio has been professionally repainted in classic colors of the era and reconditioned to sound as beautiful as it looks.
Our unique styling has made our collectible antique radios and record players famous throughout the world earning us a reputation as being one of the premier dealers of Collectible Bakelite Radios.
Our World Famous Radios have been featured in major motion pictures and TV shows. Our company and product line has highlighted some of the largest collector shows in the U.S., including the Atlantique City Antique Show and Chicagoland Jukebox, Slot Machine & Antique Advertising Show.
Our customers include many highly placed and important people with very discriminating tastes.
What People Are Saying About Us:
Well thanks so much for the personal information. What a pleasure to feel like I'm actually dealing with a person. : )
I received the radios and LOVE them!! Thank you for your help.
...It's refreshing to deal with someone online who actually understands customer service. I was really impressed when you responded to my first email on Sunday. I won't hesitate to check your site again!
.....that's the thing I like about your company....you answer email ASAP and give it that personal touch...thanks again...
Thanks, Scott - glad I found out about your company - great site!