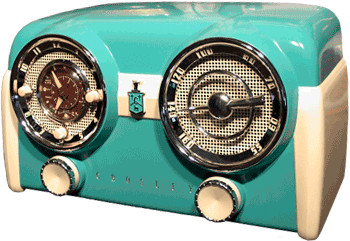 Vintage Art Deco, Machine Age and Jet Age Bakelite Radios
Our Classic Bakelite radios and record players were made famous by Primeau Music and have been featured at the major Atlantic City, New York and Chicago shows as well as TV, magazine and radio articles.
All radios featured on this site are original 30's, 40's and 50's tube radios. Most are the Bakelite Radios made famous by Scott Primeau of Primeau Music. Each Bakelite radio has been professionally repainted in classic colors of the era and reconditioned to sound as beautiful as it looks.
If you are looking for a special gift, that perfect piece to decorate a room, or you are building a collection of colorful Art Deco, Machine Age or Jet Age Radios, DecoRadioSales.com has the perfect radio for you!